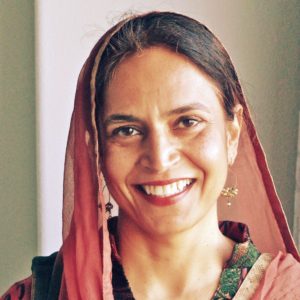 Gurmeet Kaur – a mother of two, resides in Atlanta, GA. She worked as an Engineer & Software Architect in the US for 25 years before she decided to dedicate herself to the cause of preserving Punjabi language for children; as she believes that mother language and cultural heritage are children's inalienable rights.
Her quest for beautiful Punjabi language books for her children began when her first child was born, many years ago. She searched for years but did not find illustrated Punjabi literature suitable for reading to young ones, of a quality that could inspire children to take pride in their language.
She feels that the Punjabi language – the 10th most spoken language in the world, spoken by 100 million people, is at the verge of disappearance because of lack of children's literature and a concerted effort to save it, in this age of globalization.
So, when her second child turned one, she decided to change this.  In April 2013, she launched 'Fascinating Folktales of Punjab' – a project dedicated to publishing high quality Punjabi folk literature for children that is fun, educational and inspiring. Each story in her books is presented lyrically in authentic Punjabi with English translation and has a moral. The project aims to connect children to their Mother tongue from a very early age while bringing the thousands of years old, oral-tradition-stories that are being forgotten, back to life. 
In the last six years her nine books have inspired thousands of children all over the world to connect to their Mother Language. She runs a non-profit organization which is now providing dual language books to underprivileged children in Punjab to restore the lost dignity and pride in their language.
In 2018, She launched the first ever children's book for the children of Punjab on both sides of the barbed-wire-fence — the border between India and Pakistan, in both Punjabi language scripts (Gurmukhi & Shahmukhi) and English translations.
She is currently on an extended visit to Canada, and aims to take her project to school districts where Punjabi is a leading language amongst children. Her books have been made available to the ESL teachers and libraries in the Peele Region in 2018.
In Canada, Punjabi is the third most spoken non-official language. It is spoken by over half a million immigrants from both India and Pakistan. Her 'Undivided Punjab Edition' book is unique because it can be enjoyed by children that come from Punjabi families of both these countries, as well as their non-Punjabi friends.
Besides her children's literacy project in their Mother language Gurmeet Kaur is working on saving Sikh heritage in Punjab as a children's rights issue. She is the campaign organizer for preserving the heritage at Kartarpur Sahib – resting abode of Guru Nanak, the founder of the Sikh faith.